About Evolus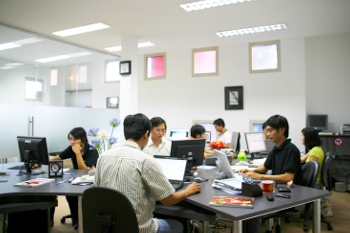 A corner of Evolus office
Motivation and Mission
In today's challenging software development industry, possessing outstanding characteristics is an essential factor for a company to successfully serve the demanding market and to maintain that success in long term. For us, this is constituted by following factors:
Quality of the expert team
Being light, flexible and evolutionary
Customer-centric
Our goal is to become a professional software development center with the product and service quality at its core.
The Company
The company was founded in 2007 by a young and talented team whose members are strongly experienced in the industry with fields ranging from:
Online services
E-Commerce
Corporate Portal
Multimedia
Advertisement Campaign
Press publishing
Enterprise Resource Planning
Communication platform
Telephony
Wireless communication
Why Evolus makes the differences?
We always try our best to stand out from the crowd of other software developments with the following approaches:
Compact:The staff is comprised of selective members to guarantee the best team working and communication.
Proactive:we expect the unexpected.
Responsible:our top responsibility is our customers, we give the customers our best, 100% commitment.
Innovative:our highly skilled developers and architects are contributing their creativity to our products/solutions which form the best infrastructures for our clients.
Your Benefits
Cost-effective and efficient.
Short time to market to meet strict deadlines.
High quality products/solutions complying with industry standards.
Leverage business strength with leading and reliable technologies.